Login into SFARMLS Mobile App

Andrea Badino
Any agent knows the MLS mobile experience at times can be...falling a bit short of expectations 😅
That's why you should try Zenlist, a 1:1 mobile experience for the SF MLS (SFAR). Access not only all of the information that you'd find on public portals, but also agent/showing remarks, agent-only details, and showing capabilities in a modern app that outclasses the search capabilities of Redfin and Zillow. Don't believe it? Check our App Store reviews, with thousands of agents who have made Zenlist their go-to platform for their daily to do's.
What you need to get started:
Have a MLS ID ready, you'll need it to verify your account

Go to get.zenlist.com/sfarmls and create an account (through email or social)

Select "I am a real estate agent"

Use your MLS ID to verify your identity (based on your local reciprocity rules, you'll get access to all of the MLSs that share their data with your main MLS)

You're now up and running! You can add client, check listing details, save searches and more all on your mobile device!



Through Zenlist, you can finally access all of the Bay Area's MLS including SFAR, BAREIS, MLS Listings, and East Bay/Contra Costa/Bridge (aka EBRDI) plus private listings! Access all of this on a single mobile app built for agents that will get you full access to listing information including private remarks, showing instructions and even ShowingTime. Available on your mobile device compatible with both iOS, and Android. So to experience SFARMLS first all-in-one mobile app Zenlist is the best platform for agents and their clients!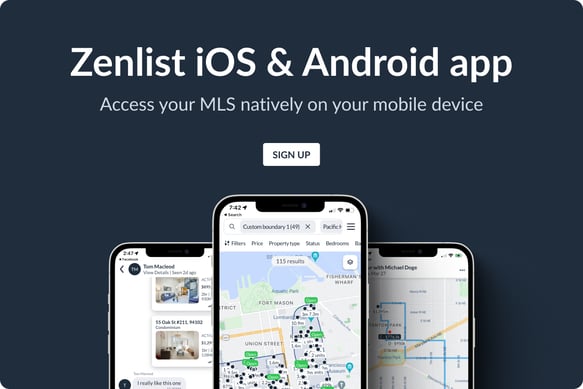 What else you can do on Zenlist?
Well, for starters you can also access it on your computer and benefit from the modern user experience. Zenlist allows you to:
Get the fastest notifications on the market (updated every 2 minutes, faster than Redfin's famous 5 minutes)

Invite clients and their co-buyers to collaborate through saved searches, chat, notes, tours, and more

Schedule broker tours directly through the app

Create buyer tours easily and share in real-time with your clients

Add co-agents (if you're working as a team)

Edit searches, add more searches for the same clients without duplication

Access coming soon and private listings

View/schedule broker tours